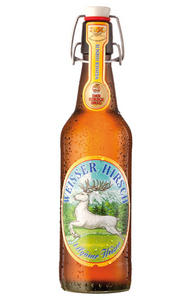 No huntsman's tall story, but a tale steeped in legend: the origin of our brand bearing the symbol of the stag. It all began with Weisser Hirsch Weissbier.
In the 16th century this rare white stag, a freak of nature, came from India, via Persia, to Bohemia and now and then to our Allgäu homeland. The aristocracy took pride in surrounding itself with symbols of its privileged status. So the stags were endowed with mystic powers by the princely hunters and said to be holy and inviolable creatures. Anyone who shoots a white stag will die in the same year, superstitious hunters say even today. So our Weisser Hirsch is no freak of nature, but homage to the rare and exceptional. It stands for a rich assortment of flavourful beer specialties brewed entirely in the traditional way.

Weisser Hirsch is a pale, top-fermented wheat beer traditionally brewed and then fermented in the bottle in the age-old fashion. Yeast-clouded with high wheat malt content. Spritzig-mild in flavour, with an agreeably light fruity taste.